Welcome to A.M. Rapach Angling Books, purveyors of Antiquarian, Collectible, and Out-of-Print Fishing Books for the Discriminating Angler.
W

e are a bookseller specializing in fishing books, fly fishing books, hunting books, and sporting books.

W

e operate an online book store and sell books at hunting & fishing shows and flea markets throughout Pennsylvania and the surrounding states.

W

e are located in Southwestern PA in Harrison City, Westmoreland County. The region is also know as the Pittsburgh Metropolitan Area.

W

e buy single items and collections from individuals, used book shops, bookstores, independent book dealers, antique dealers, and book pickers.
The angling book catalogue is now operational. Select books and check out through our store on Square, Inc. (www.square.com).
We will be posting more books. If you are looking for a particular book, please drop us a line. We have many more books than what you will see online.
---
T

he 2020 fishing and hunting show season is under way.



Thank you for attending the Tri-County Trout Club Flea Market





T

he next show in our area is the Bellefonte Sporting Collectors Meet
34th Annual Show
Saturday February 1, 2020
Undine Fire Company's Lambert Hall
303 Forge Road, Bellefonte, PA 16823
8 AM to 12 PM (No early buyers)

Please see the "Happenings" page for more information & directions.
---
Recent Acquisitions
Harvey, George W. (compiled by Daniel L. Shields); George Harvey: Memories, Patterns, and Tactics
[1998, 1st edition, 1st printing] slipcase; limited edition, 300 signed and numbered copies, copy #285; Signed presentation on limitation page.
Foreword by Joe Humphreys. Black and white photos. Two color plates showing Mr. Harvey's fly patterns. Testimonial by Former President Jimmy Carter. Chapters include: Early Years; Penn State, Fisherman's Paradise and Kettle Creek; Family Man, Angling Professor; Angling Highlights; Angling Strategy and Tactics; Random Notes on Fly Tying; and Thoughts on Conservation. Very Fine condition.
The Angling Book Catalogue
(click on the cover to enter)
---
Check out some classic books.
Juliana Berners; Treatyse of Fysshynge
wyth an Angle; 1486

I. Walton, The Compleat Angler, 1653

T. Barker, The Art of Angling, 1659

W. Pickering, Piscatorial Reminiscences & Gleanings: to which is added a catalogue of books on angling (T. Boose), 1835
---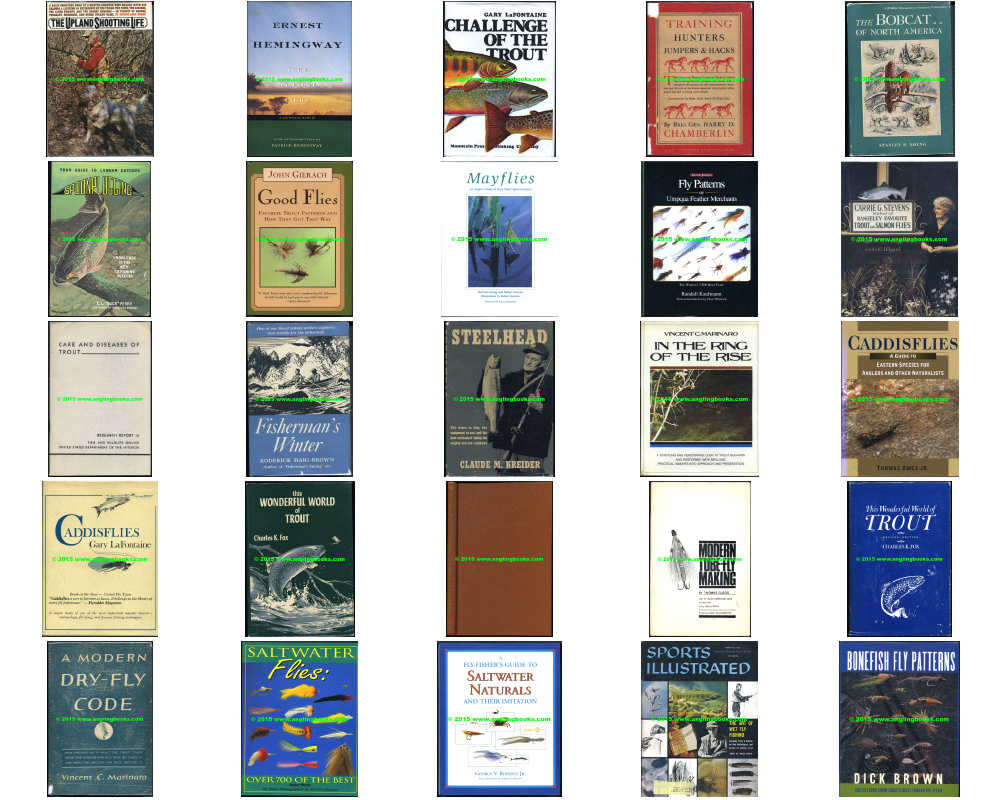 (Click on the photo to see more recent acquisitions)
---
Contact Us

Email
anglingbooks.com
Mailing address
A.M. Rapach Angling Books
PO Box 2
Harrison City, PA 15636-0002
USA

UPS, FEDEX, DHL Shipping Address
A.M. Rapach Angling Books
567 Manor Harrison City Road #0002
Harrison City, PA 15636-0002
USA
The Fishing in Print
Some of the best fishing is done not in the water but in print.
-Sparse Grey Hackle-
Fishermen are born honest, but they get over it.
-Ed Zern-
From "The Quotable Fisherman," compiled by Nick Lyons, 1998
If I fished only to capture fish, my fishing trips would have ended long ago.
-Zane Grey-
Do not tell fish stories where the people know you. Particularly, don't tell them where they know the fish.
-Mark Twain-
Men and fish are alike. They both get into trouble when they open their mouths.
-Author Unknown-
... of all the liars among mankind, the fisherman is the most trustworthy.
-William Sherwood Fox-
---
Collector Resources
Copyright 1995-2020 A.M. Rapach All Rights Reserved
"Your Place for Antiquarian, Collectible, & Out-of-Print Angling, Fishing and Fly Fishing Books on the World Wide Web."
Text and images contained herein may not be printed, reproduced in any medium or cached for reproduction
to external online or offline sources without the written permission of the copyright owner.

"Your Place for Antiquarian, Collectible, & Out-Of-Print Angling Books, Fishing Books, Fly Fishing Books, Hunting Books, and Sporting Books on the World Wide Web." fishing book, angling book, fishing books, angling books, sporting books, fishing, angling, angler, fly, fisherman, trout, fly-fisherman, fly fishing, tying, fly-tying, tyer, fly-tyer, tier, fly-tier, fish, fishes, trout, salmon, bass, saltwater, salt-water, books, book, used, rare, out-of-print, antiquarian, bookseller, antiquarian books, out-of-print books, out of print books, bookstore, online bookstore, used books, secondhand books, rare books, antiquarian books, signed books, second hand books, hard to find books, first editions, collectible books, hunter, hunting, natural history, guns, gun; fishing book, angling book, fishing books, angling books, sporting books, fishing, angling, angler, fly, fisherman, trout, fly-fisherman, fly fishing, tying, fly-tying, tyer, fly-tyer, tier, fly-tier, fish, fishes, trout, salmon, bass, saltwater, salt-water, books, book, used, rare, out-of-print, antiquarian, bookseller, antiquarian books, out-of-print books, out of print books, bookstore, online bookstore, used books, secondhand books, rare books, antiquarian books, signed books, second hand books, hard to find books, first editions, collectible books, hunter, hunting, natural history