Welcome to A.M. Rapach Angling Books, purveyors of Antiquarian, Collectible, and Out-of-Print Fishing Books for the Discriminating Angler.
W

e are a bookseller specializing in fishing books, fly fishing books, hunting books, and sporting books.

W

e operate an online book store and sell books at hunting & fishing shows and flea markets throughout Pennsylvania and the surrounding states.

W

e are located in Southwestern PA in Harrison City, Westmoreland County. The region is also know as the Pittsburgh Metropolitan Area.

W

e buy single items and collections from individuals, used book shops, bookstores, independent book dealers, antique dealers, and book pickers.
The angling books and sporting books catalogues are available obline. View the catalogues and check out through our store on Square, Inc.
We will be posting more books. If you are looking for a particular book, please drop us a line. We have more titles than what are listed in the online catalogues.
---
T

he 2020 fishing and hunting show season is under way.



Thank you for attending the Penn's Woods West Trout Unlimited Cabin Fever





T

he next show in our area is the ...



Due to the fluid conditions surrounding the COVID-19 virus our next show is uncertain at this time.




Please see our "Happenings" page for more information & directions.

But there will be more time for fishing ...

Pennsylvania's Trout Season Is Now Open ... Please Be Safe


---
Recent Acquisitions
Harvey, George W. (compiled by Daniel L. Shields); George Harvey: Memories, Patterns, and Tactics
[1998, 1st edition, 1st printing] slipcase; limited edition, 300 signed and numbered copies, copy #285; Signed presentation on limitation page.
Foreword by Joe Humphreys. Black and white photos. Two color plates showing Mr. Harvey's fly patterns. Testimonial by Former President Jimmy Carter. Chapters include: Early Years; Penn State, Fisherman's Paradise and Kettle Creek; Family Man, Angling Professor; Angling Highlights; Angling Strategy and Tactics; Random Notes on Fly Tying; and Thoughts on Conservation. Very Fine condition.
The Fishing Books Catalogue
(click on the cover to enter)
---
Check out some classic books.
Juliana Berners; Treatyse of Fysshynge
wyth an Angle; 1486

I. Walton, The Compleat Angler, 1653

T. Barker, The Art of Angling, 1659

Ellis, Sir Henry; A Catalogue of Books on Angling; 1811; The first published angling bibliography.
---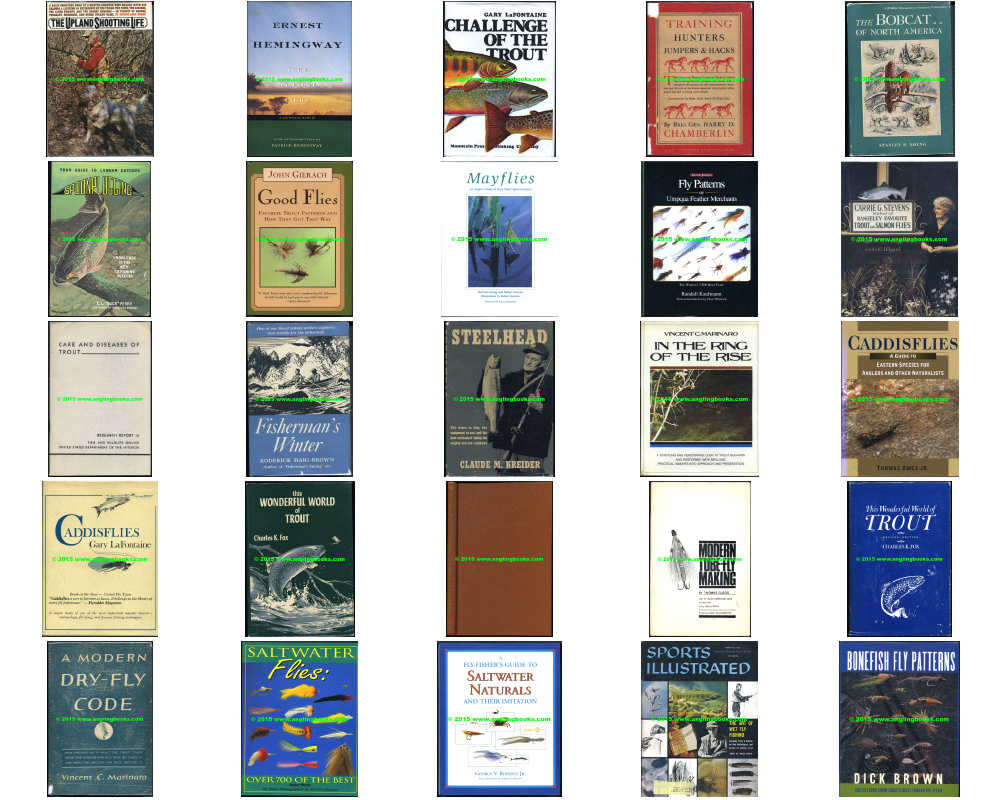 (Click on the photo to see other
recent acquisitions)
---
Contact Us

Email
anglingbooks.com
Mailing address
A.M. Rapach Angling Books
PO Box 2
Harrison City, PA 15636-0002
USA

UPS, FEDEX, DHL Shipping Address
A.M. Rapach Angling Books
567 Manor Harrison City Road #0002
Harrison City, PA 15636-0002
USA
---
The Fishing in Print
Some of the best fishing is done not in the water but in print.
-Sparse Grey Hackle-
Fishermen are born honest, but they get over it.
-Ed Zern-
From "The Quotable Fisherman," compiled by Nick Lyons, 1998
If I fished only to capture fish, my fishing trips would have ended long ago.
-Zane Grey-
Who was it that said that if you give a man a fish, you feed him for the day, but if you teach a man to fish, the sod-sucker is unlikely ever to bother with an honest days work for the rest of his miserable life?
-Wolf Avni, Bitch-Creek Nymphing & the Millennium Bug-
Men and fish are alike. They both get into trouble when they open their mouths.
-Author Unknown-
... of all the liars among mankind, the fisherman is the most trustworthy.
-William Sherwood Fox-
Collector Resources

Pleasure & Profit Books--A.H. Harding Publishing Company
---
In Memorium
Ed Shenk, a Pennsylvania icon and a man who left a lasting legacy on the sport of fly fishing passed away peacefully on April 10, 2020. He was 93 years old.
Almost all fly fishers have been impacted by Ed Shenk in some way, whether they know it or not. His home water was Letort Spring Run where he shared the water, and ideas, with other leading fly fishers of the day such as Vincent Marinaro and Charlie Fox.
He wrote 18 articles for Fly Fisherman magazine. He was a great observer, and most significant contributions were transferring what he saw in nature to his fly-tying vise. He created and wrote about the Letort Hopper, Letort Cricket, Shenk Cress Bug, Shenk Sculpin, and Shenk White Minnow. And while many of these flies have since evolved into more complex variations with synthetic materials, Shenk and his peers laid the groundwork for how we imitate trout food sources both at the vise and in our on-the-water presentations. He wrote one book--Fly Rod Trouting (Stackpole Books, 1989).
(Ross Purnell - April 15, 2020, Fly Fisherman Magazine)
Copyright 1995-2020 A.M. Rapach All Rights Reserved
"Your Place for Antiquarian, Collectible, & Out-of-Print Angling, Fishing and Fly Fishing Books on the World Wide Web."
Text and images contained herein may not be printed, reproduced in any medium or cached for reproduction
to external online or offline sources without the written permission of the copyright owner.

"Your Place for Antiquarian, Collectible, & Out-Of-Print Angling Books, Fishing Books, Fly Fishing Books, Hunting Books, and Sporting Books on the World Wide Web." fishing book, angling book, fishing books, angling books, sporting books, fishing, angling, angler, fly, fisherman, trout, fly-fisherman, fly fishing, tying, fly-tying, tyer, fly-tyer, tier, fly-tier, fish, fishes, trout, salmon, bass, saltwater, salt-water, books, book, used, rare, out-of-print, antiquarian, bookseller, antiquarian books, out-of-print books, out of print books, bookstore, online bookstore, used books, secondhand books, rare books, antiquarian books, signed books, second hand books, hard to find books, first editions, collectible books, hunter, hunting, natural history, guns, gun; fishing book, angling book, fishing books, angling books, sporting books, fishing, angling, angler, fly, fisherman, trout, fly-fisherman, fly fishing, tying, fly-tying, tyer, fly-tyer, tier, fly-tier, fish, fishes, trout, salmon, bass, saltwater, salt-water, books, book, used, rare, out-of-print, antiquarian, bookseller, antiquarian books, out-of-print books, out of print books, bookstore, online bookstore, used books, secondhand books, rare books, antiquarian books, signed books, second hand books, hard to find books, first editions, collectible books, hunter, hunting, natural history